"C'era una volta e forse c'è ancora, una foresta dagli alberi alti come le antenne della televisione…"
Così inizia la storia del funghetto Tippi.
"E poi chi arriva?" chiedeva Roberta a suo papà una sera di 25 anni fa.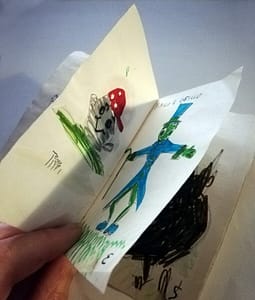 Avendo esaurito tutto il repertorio delle favole della buonanotte conosciute, mio marito aveva iniziato a intrecciare una trama e ad ogni domanda rivolta da nostra figlia, aggiungeva un personaggio nuovo, creando così la storia de "Il funghetto Tippi".
A lei piaceva moltissimo questa favola inventata dal suo papà e voleva sentirla raccontare tutte le sere prima di dormire.
Quella di creare una storia da pubblicare era una cosa che avevo in mente da un po' di tempo, mi hanno ispirato per la realizzazione dei personaggi i disegni fatti da mia figlia, che sono conservati in un piccolo libricino formato cm 8×12 fatto proprio da Roberta all'età di 5 anni,  e così l'idea ha cominciato a materializzarsi.
L'occasione è venuta con il lockdown causa corona virus che mi ha "costretto" a casa con molto tempo a disposizione.
Mio marito ha scritto il testo e io ho iniziato a fare gli acquerelli da usare come ambientazioni ai personaggi.
Per la realizzazione delle illustrazioni finali che accompagnano i vari episodi della narrazione, ho voluto unire la manualità della tecnica dell'acquerello, usata per gli sfondi, alla tecnologia dei programmi di elaborazione grafica a computer per i personaggi.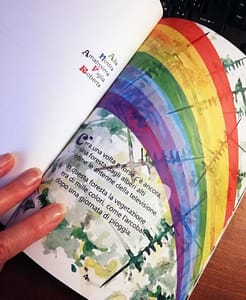 La favola è stata pubblicata a maggio 2020 su Amazon in italiano
Ringrazio tutti gli amici per il supporto alla traduzione e alla grande opportunità di vedere realizzato questo lavoro, abbastanza impegnativo, ma di grande soddisfazione e soprattutto un grande divertimento.
Su Youtube  il video della storia animata de "Il funghetto Tippi" con la voce narrante del creatore della favola.
E voi cosa aspettate, non siete curiosi di scoprire poi… chi arriva!
"Once upon a time, there was, and maybe it is still there, a forest with trees high as aerials…"
This is how Tippi, the little mushroom's story begins, a fairy tale that my husband used to tell our daughter Roberta when she was little (only few years have passed since then…).
She loved this fairy tale created by her dad and wanted to hears it every night before sleeping.
I was inspired to create the characters looking a our daughter's drawings of them and so here is Tippi's tale.