Le bellissime ortensie rosa con punte violacee che coltivo in vaso, mi hanno ispirato per l'acquerello, mentre ero seduta al tavolo in terrazza.
The beautiful pink hydrangeas with purple tips that I have planted in vase, inspired me by the watercolor I made, while I was sitting at my terrace table.
I fiori delle zucchine sono molto belli.
The courgette flowers are very beautiful.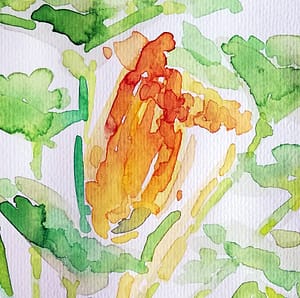 Ho tentato più volte di piantare erbe aromatiche in vaso, tipo salvia ,timo e rosmarino, ma senza successo, l'unico è il basilico.
Roberto è venuto a trovarmi.
I have tried more than once to plant the aromatic herbs in pot, such as sage and rosemary, but without success, the only one that resists enough to provide us with its fragrant leaves is basil.
Roberto came to see me