L'Unione degli opposti
Metamorphosis sculptures collection
Il principio universale della dualità è l'espressione del forte legame con il mondo naturale contenuto in questa scultura, è lo stesso sentimento di appartenenza e con-divisione che hanno tutte le mie metamorfosi.
The universal principle of duality is the expression of the strong bond with the natural world contained in this sculpture, is the same feeling of belonging and division that all my metamorphoses have.
Ho trovato delle affinità di pensiero leggendo il testo di Fabrizio Manco La Magia e il Fantasy, alcuni punti trattati hanno destato il mio interesse e sono stati una grande fonte di ispirazione.
I found affinities of thought reading the text of Fabrizio Manco The Magic and the Fantasy, some of the points dealt with have aroused my interest and have been a great source of inspiration.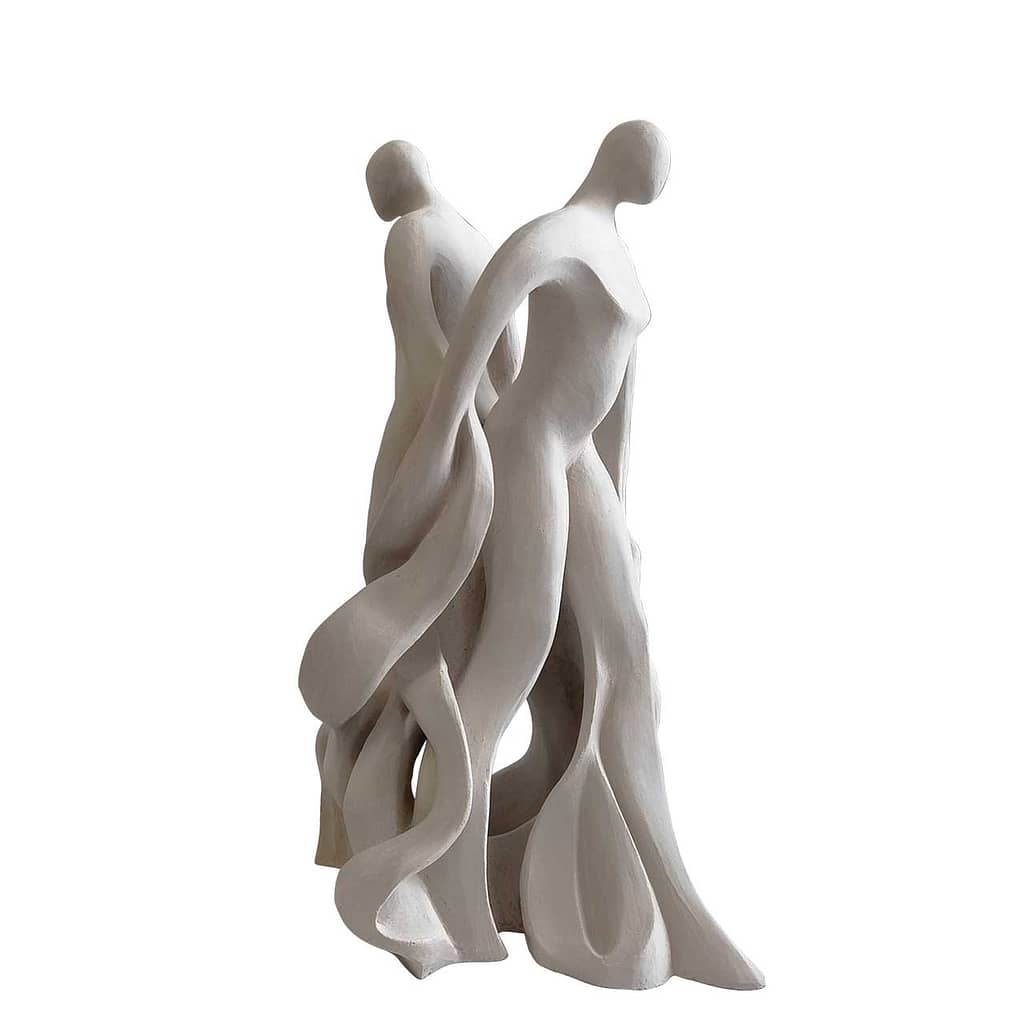 …La magia e le sue origini
La magia è quindi quella capacità posseduta dai maghi e dagli stregoni, principalmente, con la quale si possa dominare la natura, e modificare le sue leggi a suo piacimento.

È quindi uno dei desideri più profondi dell'animo umano, insieme al desiderio di volare…
…Le Metamorfosi.
…ogni racconto contiene una Metamorfosi diversa, proprio a testimonianza del fatto che la Natura contiene ogni tipologia di Metamorfosi…

…" La magia e l'alchimia quindi sono strettamente legate l'una all'altra: anzi , potremmo affermare che la formula magica tanto famosa nelle rappresentazioni della magia, come Abacadabra, sono di origine alchemica…
L'autore cita Maria la profetessa e l'unione degli opposti: «unisci il maschile e il femminile e troverai quello che si cerca»
E l'assioma: «L'Uno diventa Due, i Due diventano Tre, e per mezzo del Terzo il Quarto compie l'Unità»
che sono stati motivi di ispirazione per questa nuova scultura scultura.
"combine the masculine and the feminine and you will find what you are looking for"
Arena Culturale | Serate di studio su Giovanni Verga organizzate dal Notaio Totò Abbruscato