111 LUOGHI DI VENEZIA CHE DEVI PROPRIO SCOPRIRE | 111 PLACES IN VENICE TAHT YOU MUST NOT MISS | 111 ORTE IN VENEDIG DIE MAN GEHESEN HABEN MUSS
"Futurista e utopica ci appare la statua di vetro Vitae a Murano.
L'opera di Denise Gemin ha infatti qualcosa di mistico e amorfo e sembra indecifrabile, tuttavia è anche incredibilmente attraente, poiché coniuga mirabilmente il lato fantastico e quello terreno.
Finzione e realtà si fondono così in un'incantevole unità."
Gerd Wolfgang Sievers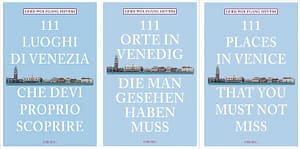 "Chiare, fresche et dolci acque, ove le belle membra pose colei che sola a me par donna" –
Francesco Petrarca
Questa scultura-fontana è dedicata alla donna in quanto generatrice di vita così come lo è l'acqua.
Il vetro trasparente denota la sua purezza, tutto l'ambiente circostante si riflette sulle parti specchiate.
This fountain-sculpture is dedicated to the woman as a generator of life as well as water.
The transparent glass denotes its purity, the whole surrounding environment is reflected on the mirrored pieces.