Foghetto mi son è mia la nuova scultura in vetro di Murano per l'evento The Venice Glass Week 2020
Foghetto mi son is my new Murano glass sculpture for the event The Venice Glass Week 2020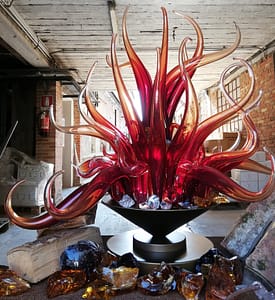 Per immergersi nella tipica atmosfera che da sempre contraddistingue l'isola del vetro e vedere la tipica lavorazione del vetro artistico bisogna entrare in una fornace di Murano
"Le forme sinuose che nascono dalla materia sapientemente domata dalle mani e dal genio creativo di uomini che da generazioni si tramandano un' arte che continuano a chiamare "mestiere".
La materia, dapprima densa come magma, diventa un succedersi di velate trasparenze in una genesi di colori che nessuna tavolozza ha mai concepito.
Il tutto a creare giochi di luce come una caleidoscopica lanterna, ed è proprio alla luce che è dedicata quest'opera."
To immerse yourself in the typical atmosphere that has always distinguished the island of glass and see the typical artistic glass processing, you need to enter a Murano furnace
"Sinuous forms are born out of matter obstinately tamed by the hands and creative genius of men who for generations have passed on an art they call "craft".
Veiled transparencies, delicate as butterfly wings, alternate with matter as dense as magma, in a genesis of colors as a play of lights no palette has ever seen.
And to light this creation is dedicated, destined to remain timeless masterpiece, kaleidoscopic lantern to go on dreaming".
Le fiamme in vetro soffiato a bocca nei colori  rosso fuoco, ambra e ametista si appoggiano, alternandosi sopra un braciere in metallo.
The blown glass flames in red, amber and amethyst color glass lean on a circular metal brazier.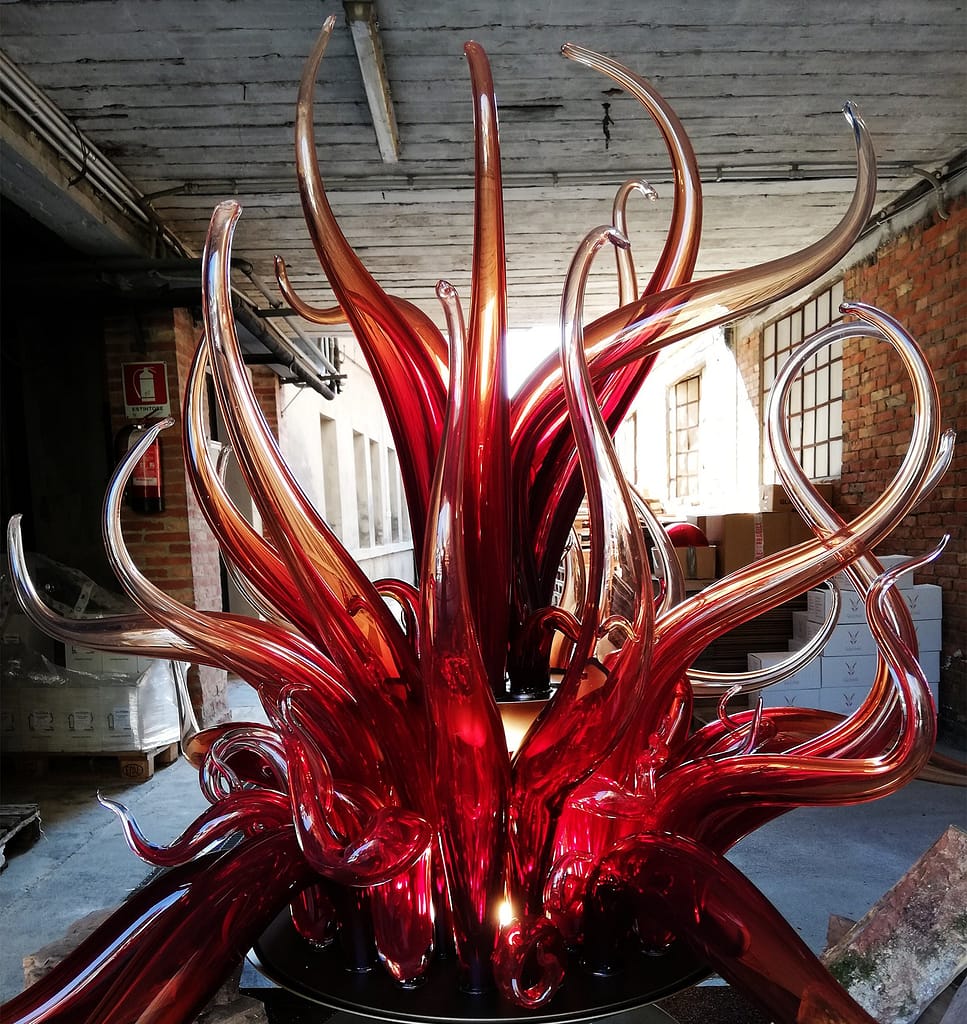 Il maestro vetraio Paolo Crepax all'opera nella fornace Mian a Murano.
The master glassmaker Paolo Crepax at work in the Mian furnace in Murano.