Con le mie opere intendo testimoniare tutta la mia attenzione, il rispetto e l'amore per gli alberi, i silenziosi abitanti di questo pianeta e simboli di vita.

By my works I want to put all my attention, respect and love for the trees, the silent inhabitants of this planet and symbols of life
Le mie opere prendono ispirazione dagli elementi naturali che si trasformano diventando parte delle mie creazioni.

My works are inspired by the natural elements that are transformed becoming part of my creations.
Il tema è sempre la trasformazione, il movimento, la tensione del cambiamento, la mutazione costante della materia e l'energia che da essa ne deriva.

The theme is always the transformation, the movement, the tension of change, the constant mutation of matter and the energy that comes from it.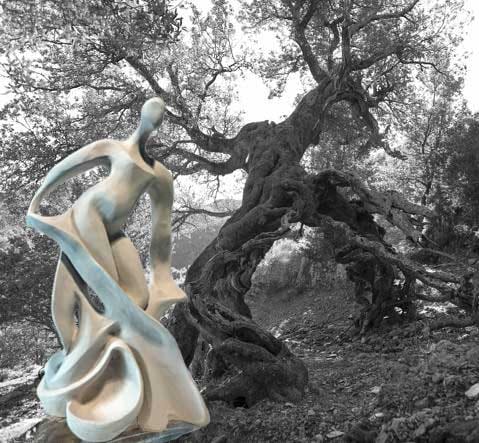 Ogni scultura ha uno spirito intrinseco che vedo oltre la materia, sono proiezioni di me stessa con l'intento di smuovere memorie ed emozioni dal profondo del cuore.
Every sculpture has an intrinsic spirit that I see beyond matter, they are projections of myself with the intention of moving memories and emotions from the depths of my heart.
L'arte è un tramite e serve a togliere gli occhiali alla mia coscienza mostrandomi le cose per quello che sono realmente, è lo specchio della mia esistenza.

Art is a means, it helps to remove the glasses from my consciousness and show me things for what they really are, it is a mirror of my existence.
Le linee che si toccano e si intrecciano sono in comunicazione, parlano lo stesso linguaggio.

The lines that touch and intertwine are in communication, they speak the same language.