L'immortalità della trasformazione | The immortality of the transformation
Collezione sculture Metamorfosi | Metamorphosis sculpture collection
1992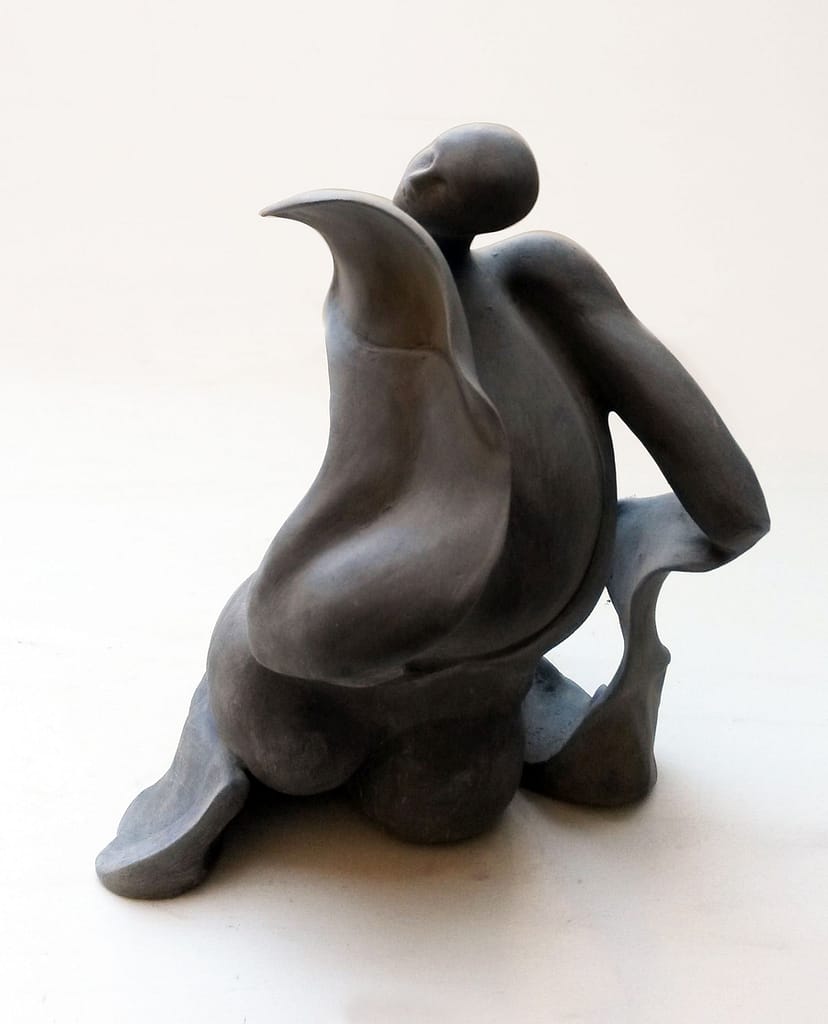 Estratto dall'articolo scritto da Serena Milisenna e pubblicato su Sicilia reporter il 19|04|2021
Extract from the article written by Serena Milisenna and published in Sicilia reporter on 19|04|2021
"…Il mio incontro con lei avviene in una uggiosa mattina del Novembre 2020, mentre mi appresto a tenere una lezione di marketing da remoto.
"…My meeting with her takes place on a gloomy morning in November 2020, as I prepare to hold a marketing lesson remotely.
La sera prima sono morte 800 persone per il Corona virus.
The night before 800 people died from the Coronavirus.
Denise è tra i trenta partecipanti, ma non so ancora nulla di lei e, dopo aver creato i gruppi di lavoro, mi ritrovo sulla chat privata un messaggio:
Denise is among the thirty participants, but I do not know anything about her yet, after creating the working groups, I find her message on the private chat:
"Ciao, Serena! Volevo farti vedere qualcosa di me…"
"Hi, Serena! I wanted to show you something about me…"
Clicco sul link e si apre un mondo: è un video che ritrae Metamorphosis One.
I click on the link and a world opens to me: it's a video that portrays Metamorphosis One
E in questa opera del 1992 ho visto il racconto inesorabile, chiarissimo della condizione umana di oggi e di me stessa: in questa donna che si determina dall'argilla, e che sembra avere un'ala abbozzata sulla schiena, c'è tutta la tensione verso la ripresa.
And in this work of 1992, I saw the inexorable, very clear story of the human condition of today and of myself: in this woman who is determined by clay, and who seems to have a wing outlined on her back, there is all the tension towards recovery.
Nonostante la figura sia accosciata, c'è la trasformazione.
Although the figure is crouched, there is a transformation.
Il segno evidente che dalla materia plastica fuoriesca qualcosa di nuovo:
c'è la rinascita dopo la caduta, la volontà di sollevare la testa.
The obvious sign that something new is coming out of the plastic matter: there is rebirth after the fall, the will to lift the head.
E il mondo intero ed io non vediamo l'ora di liberarci del dolore, della precarietà, del senso di vuoto che ci avvolge e ripartire come già stiamo cercando di fare ogni santo giorno, adattandoci alla nuova condizione e cercando nuove strade.
And the whole world and I are looking forward to getting rid of the pain, the precariousness, the sense of emptiness that surrounds us and starting again as we are already trying to do every day, adapting to the new condition and looking for new ways.
Tra me e la scultura si frappongono, improvvise, le lacrime e un dondolio di emozioni vengono al petto come sospinte da un dialogo muto.
Between me and the sculpture they get in the way, sudden, the tears and rocking of emotions come to the chest as impelled by a silent dialogue.
Colpita, nutrita di bellezza e curiosità, faccio subito un'ulteriore ricerca su questa artista e le sue creazioni: nel silenzio dell'armonia pieno/vuoto, della trasparenza mescolata al colore, le sue creature parlano e sono materia viva che evoca significati.
Struck, nourished by beauty and curiosity, I immediately do further research on this artist and her creations: in the silence of full/empty harmony, of transparency mixed with color, her creatures speak and are living matter that evokes meanings.
Le sue opere costituiscono luoghi di riflessione, invitano alla trasformazione e a trovare nel movimento, impresso con maestria alla materia cangiante del vetro, del legno, dell'argilla, l'evoluzione del sé.
Her works are places of reflection, invite you to transformation and to find in the movement, impressed with the mastery of the changing with materials like glass, wood, clay, the evolution of the self.
Raccontano la necessità di resistere alle intemperie e di spargere bellezza.
They tell the need to resist the weather and spread beauty.
Perché seminare bellezza in questo tempo difficile è dovere sociale.
Why sowing beauty in this difficult time is a social duty.
I capolavori di Denise sono fuochi che attendono, nel sommo silenzio, di ardere ascoltati…"
Denise's masterpieces are fires that await, in the utmost silence, to burn but listened to..."